Tokaido Journey: the book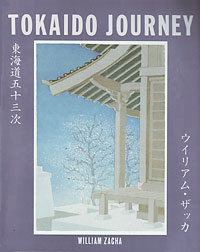 The book Tokaido Journey is the companion to William Zacha's 55 Tokaido Journey serigraphs.
Each of the Tokaido Journey serigraphs represents one of the stations of Japan's old Tokaido Road as William Zacha saw it in the late 20th century.
The book is fully illustrated, with a page for each of the serigraphs and its story.
Link to William Zacha's introduction to his Tokaido Journey, the Tokaido Journey serigraphs, and the Tokaido Journey Box .
Visitors to Mendocino will find Tokaido Journey at the Mendocino Art Center Gallery Gift Shop (Little Lake Street west of Kasten); for current hours, please call 707-937-5818 x14.
In addition, Tokaido Journey is carried by Gallery Bookshop (corner of Main Street and Kasten Streets in Mendocino), open daily 9:30 – 6, and until 9 pm on Fridays and Saturdays (707-937-2665).
Tokaido Journey was written and published by William Zacha,  Mendocino, CA 95460, USA (1985). 64 pages. Full color illustrations of William Zacha's fifty-five serigraph series, contemporary vignettes of the stations of the ancient Tokaido Road, connecting the Shogun's castle at Edo with the Imperial palace at Kyoto. Texts in both Japanese and English. Japanese translation by Abe Setsuko and Matsuoka Haruo. Design by Miyake Akio. Photographs by Kimura Taro. Printed in Japan by Abe Photo Printing Co., Ltd. © 1985 William Zacha. All rights reserved.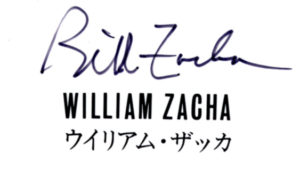 The Mendocino Art Center
William Zacha's Tokaido Journey
The Tokaido Journey serigraphs
William Zacha: Artwork
Divine Inspiration, Creative Genius. A Whim.
Mendocino Heritage Artists
Homepage