Archive of the Mendocino Heritage Artists
Tokaido Journey
By William Zacha (1985)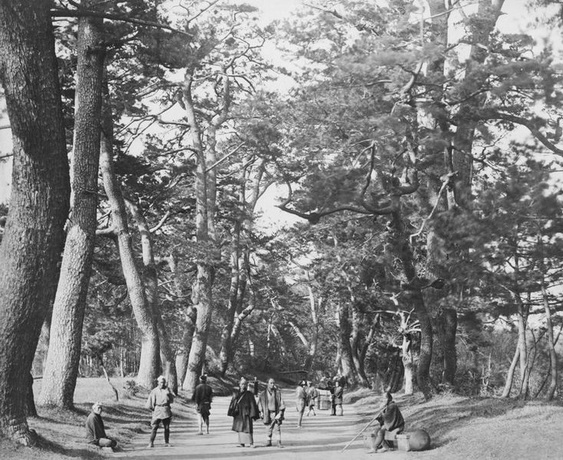 I have spent a major part of my creative energies on a series of 55 serigraphs of Japan depicting the contemporary scene along the ancient Tokaido road.
In 1603, Ieyasu became Shogun, and he improved the existing trail from his castle at Edo, now Tokyo, to the Imperial palace at Kyoto. The new road was approximately 320 miles long. Every four to seven miles he established a station where the traveler could obtain food, shelter, porters, horses, or other necessities. These stations attracted merchants, inn keepers, and the like to settle nearby, and the stations became towns.
In the 19th century various artists produced woodblock prints of scenes along the Tokaido, but in 1834 Ando Hiroshige published his first set of 53 stations of the Tokaido, and it is one of the greatest art treasures of Japan.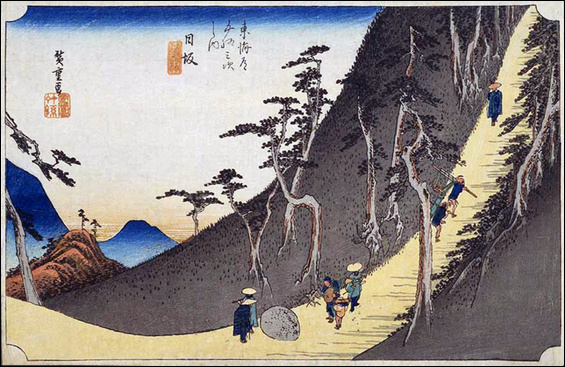 My introduction to Hiroshige and the Japanese print had been in Rome in 1952. At that time it was still possible to browse at the Piazza Borghese stalls and find good copies. About the same time, I was asked by people who viewed my watercolors how long I'd been in Japan. I admitted I'd never been. I began dreaming of a visit to Japan, reading such classics as the BOOK OF TEA, Benedict's CHRYSANTHEMUM AND THE SWORD, Statler's JAPANESE INN, and the novels of Mishima, Kawabata and other contemporary novelists. In 1964 an opportunity arose that would permit a three month visit in Japan, and with it came the idea of a walk down the old Tokaido.
Ideally it would take 55 days to go from Tokyo to Kyoto. Each morning my wife, Jennie and I would awaken in a lovely Japanese inn, have our breakfast, get an early start, back-packing only minimum changes of clothing and the art supplies. I would locate a site, hopefully with some relation to Hiroshige's print of the area and do a watercolor. Then, according to our plan, we would continue our walk to the next station (averaging from four to seven miles) locate a ryokan, have a hot bath, dinner, and take sightseeing walks around the town. In 55 days we should arrive in Kyoto, live at Chotoku in, a sub-temple of Shokokuji, and make side trips to the finest sights in Japan. Actually, it didn't turn out quite as we envisioned. It has taken 20 years and ten additional trips to Japan to finish my work.
After we arrived in Tokyo, on that first trip, we took guided tours to Nikko and Hakone to familiarize ourselves with the day to day routines. In mid-September we began the adventure on our own. We walked out of the old Imperial Hotel, carrying all our luggage, plus a large bag of fruit which a young man had brought us. We did not know which way to turn. Fortunately a helpful cab driver took us in hand, arranged for the two large suitcases to be shipped ahead, one to Hamamatsu, one to Kyoto, and put us on a train for Kamakura. After two nights there, we took an electric train to Fujisawa, and we were on the old Tokaido at last. But I'm ahead of my story. I'll go back to the Nihonbashi Bridge in Tokyo, where the Tokaido begins.
William Zacha's Tokaido Journey Serigraphs
Tokaido Journey Book
Tokaido Journey Boxed Set
Artwork of William Zacha
William Zacha: a Life Well Lived
The Mendocino Heritage Artists
Homepage