Archive of the Mendocino Heritage Artists
Hilda Pertha: ARTWORK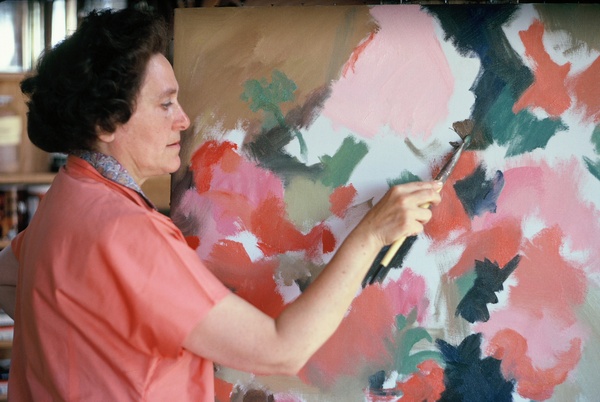 Note: From time to time a piece of Hilda Pertha's artwork comes on the market listed in error as "untitled." The title might be unknown, but none of Pertha's work was ever launched untitled. – CGB reacting to a recent eBay listing
INDEX TO PERTHA SLIDESHOW VIDEOS
Connie Korbel-Mickey has created, and posted on Youtube, slideshow videos of Hilda Pertha's artwork, organized around themes. Here is the index of the  slideshows, with links to the videos, and Connie Korbel-Mickey's notes:
1. Hilda Pertha: Retrospective Slideshow
Connie Korbel-Mickey: On February 19, 2014, I launched the first YouTube video, a 'Retrospective Slideshow' with a selection of over 60 paintings that spans seven decades in different mediums and styles.
2. Hilda Pertha Early Works: Collector's Choice
Connie Korbel-Mickey: I worked with a California art collector recently who was in the midst of cataloging an extensive collection of early works—1950s-1970s—by Hilda Pertha. From a preliminary selection of scans I compiled a slideshow of rare sketches and small works; most have never been seen by the public before this. Most of these small pieces are best recognized as the early evolution of later major paintings, including modulars of her favorite subjects of the redwoods and botanical gardens. Others represent studies on her beloved Norway.
3. Hilda Pertha: Sketches
Connie Korbel-Mickey: This slideshow video contains about 70 sketches by Hilda Pertha spanning several decades beginning in the mid-1960s. Very few have never been seen by the public before.
4. Hilda Pertha: Art on Paper
Connie Korbel-Mickey: This slideshow video of small artworks on paper, totaling about 70 images, spans 70 years, beginning in the 1930s through 2007. There's a little of everything. It's a sampling of the evolution and breadth of her interests and skills. There's the monochromatic Norwegian rocks that fascinated her for over half of her life and the broad palette of the decades studying the Mendocino Botanical Gardens. Of all the mediums that she created finished pieces, perhaps her most varied—sizes, shapes, materials, moods, and colors — are her collages and mixed media.
5. Hilda Pertha's Artistic 'Affair with Flowers'
Connie Korbel-Mickey: This slideshow is a very small representation of sketches, works on paper, and oil paintings on the subjects of flowers, gardens and forests, by Ms. Pertha, mostly from the 1980s and 1990s.
6. Hilda Pertha: Early Abstract Paintings
Connie Korbel-Mickey: This slideshow includes a small selection of abstract paintings—oil and acrylics—from the mid-1950s through the early 1980s before Ms. Pertha's work took a turn toward predominantly garden, floral, redwoods, and coastal themes inspired by the north Mendocino Coast of California and the development of what became her signature India ink paintings.
7. Hilda Pertha: India Ink Paintings
Connie Korbel-Mickey: This video, a small collection of about 50 horizontal photos, spans three decades (1980s-2007) and represents a variety of Ms. Pertha's ink styles developed over those years. The likelihood that another artist will ever duplicate her methods is doubtful as the specific imported paper she used is no longer available; other artists will have to find their own way with alternative materials. In fact, in the last few years before her passing, suppliers had run out of the inventory worldwide. She tried substitutions but found them all unsatisfactory.
8. Hilda Pertha: Decades in Collage
Connie Korbel-Mickey: Hilda Pertha is primarily known as an abstract painter of oil canvases, but over her long lifetime and career she worked masterly in virtually all mediums. She produced collages intermittently, sometimes as studies for other work. This slideshow of images covers about 40 years during which she completed a mere 60-something collages (paper, ink/mixed-media) compared to dozens of complex modulars, hundreds of oil paintings, and hundreds more of her signature ink and mixed-media paintings, and a few dozen acrylic paintings.
9. Hilda Pertha: Reflections in Ink
Connie Korbel-Mickey: The "Reflections" Series was inspired by Ms. Pertha's numerous visits to paint in Norway. In an artist statement for an exhibit of her earliest ink paintings, she wrote, "These new papers involve a lifetime interest in the underlying energies which constantly create form and motion in air, water and space. Studies in astronomy, bacteriology, physics, philosophy and the arts of many countries have been an affirming influence toward the current style." ~ Hilda Pertha
10. Hilda Pertha: Album Leaf: Florals & Forests
Connie Korbel-Mickey: Here is the 10th slideshow video of compiled works by Hilda Pertha which she labeled as "Album Leaf" paintings which are much more detailed than sketches, yet much less so than full-blown paintings. They are vibrant images, always titled, signed and dated, often produced as studies of many varied subjects, that I have come to appreciate and enjoy very much.
LINKS
Hilda Pertha
Hilda Pertha and Norway
Hilda Pertha and Connie Korbel-Mickey
Bill's Roses: A Tribute by Hilda Pertha
The Mendocino Heritage Artists
Welcome!