Archive of the Mendocino Heritage Artists
NOTAN: the dark-light principle of design by Dorr Bothwell & Marlys Mayfield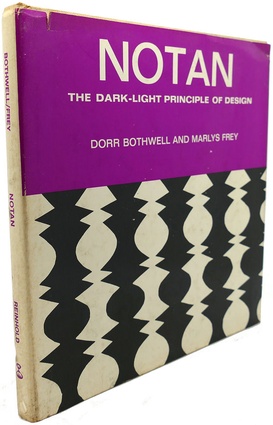 From the Introduction to Notan by Marlys Mayfield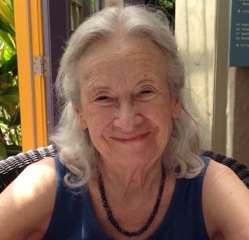 We put thirty spokes together and call it a wheel; But it is on the space where there is nothing that the utility of the wheel depends. We turn clay to make a vessel; But it is on the space where there is nothing that the utility of the vessel depends. We pierce doors and windows to make a house; But it is on these spaces where there is nothing that the utility of the house depends. Therefore, just as we take advantage of what is, we should recognize the utility of what is not. – Lao Tzu
Description: As a guiding principle of Eastern art and design, Notan (a Japanese word meaning dark-light) focuses on the interaction between positive and negative space, a relationship embodied in the ancient symbolism of the Yang and the Yin. In composition, it recognizes the separate but equally important identity of both a shape and its background.
Since their introduction in the West, the intriguing exercises associated with Notan have produced striking results in every branch of Western art and design. This book, by two American artists and teachers who made an intensive study of Notan, was the first basic book on the subject in the West, and it remains one of the definitive texts. Through a series of simple exercises, it places the extraordinary creative resources of Notan easily within the grasp of Western artists and designers.
Clearly and concisely, the authors demonstrate Notan's practical applications in six problems of progressive difficulty — creative exercises that will fascinate artists and designers of every calling and level of expertise. Along with these exercises, the book includes many illustrations of the principle of Notan, among them images as diverse as a sculpture by David Smith, a Samoan tapa cloth, a Museum of Modern Art shopping bag, New England gravestone rubbings, Japanese wrapping paper, a painting by Robert Motherwell, a psychedelic poster, and a carved and dyed Nigerian calabash. Painters, sculptors, potters, jewelry, and textile designers, architects, and interior designers all will discover — or rediscover — in these pages an ancient principle of composition that can help them meet creative challenges with fresh new perspective.
Notan: The Dark-Light Principle of Design by Dorr Bothwell and Marlys Mayfield (Dover Books reprint). First published in 1968 as Notan – on the Interaction of Positive and Negative Spaces, by Reinhold Book Company, New York. Reissued by Reinhold in 1978 as Notan – The Dark-Light Principle of Design.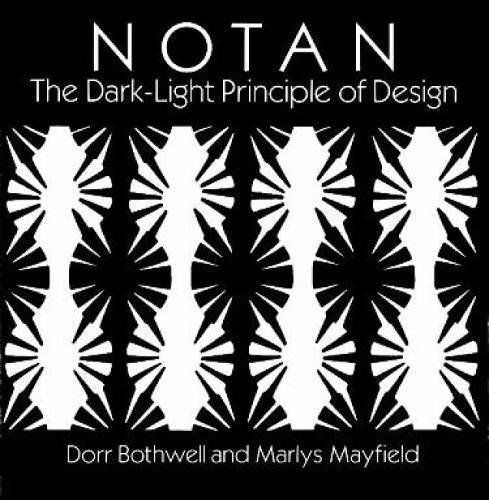 Notan: The Dark-Light Principle of Design is available direct from Dover Books, and from Gallery Bookshop in Mendocino (corner of Main & Kasten Streets). Gallery Bookshop, PO Box 270, Mendocin0, CA 95460 / Phone: 707-937-2665 / Open daily 9:30- 6 and 'til 9 on Friday & Saturday.
A little history: According to Dorr Bothwell, Reinhold Book Company expected titles kept on its backlist to have consistently high year-round sales, however Notan was purchased primarily as a textbook for art classes, and its sales reflected college schedules. In spite of a strong initial showing, and a re-issue with regular seasonal sales, Reinhold dropped Notan. Bothwell understood that there would always be an academic demand for Notan, so she insured that the book would remain available by striking a deal with Dover Books. For a token fee paid to the authors, Dover would own all rights to Notan and, in exchange, Dover agreed to keep Notan in print in perpetuity.
LINKS
Dorr Bothwell: Artwork
Dorr Bothwell in Her Own Words
Barebones Bothwell
Dorr Bothwell: Straws in the Wind
Mendocino Heritage Artists
Welcome!