Archive of the Mendocino Heritage Artists
Dorr Bothwell: Straws in the Wind: An Artist's Life as told to Bruce Levene
Dorr Bothwell, Straws in the Wind is a labor of love by historian Bruce Levene. Bothwell's perception, humor, and rapport with Levene shine through the many interviews conducted during the 1980s.
After the interviews, Levene devoted years to collecting and studying Dorr Bothwell's painting, serigraphy, and collage, in order to choose over 200 works of art illustrating Bothwell's range. In addition, Levene provides many photos from throughout Bothwell's life.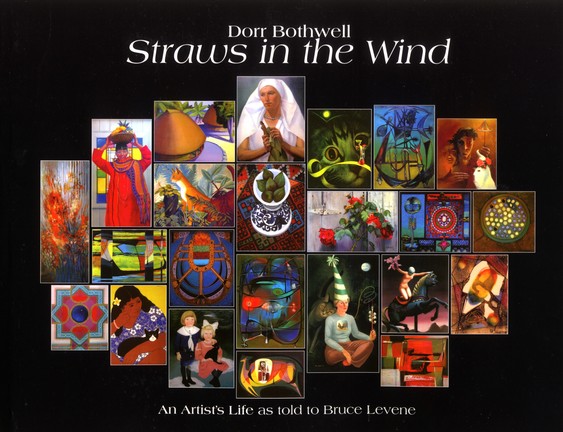 From Bruce Levene's Introduction to Dorr Bothwell: Straws in the Wind (2013)
From a transcendent moment in 1906 when she was four years old, until 1997, when her eyes no longer allowed her to paint, Dorr Bothwell never deviated for one moment from her life-long artistic quest. As a woman and a Californian, she faced prejudices and obstacles—and at times hardships—that would have impeded most people. Not Dorr. She continued painting, traveling, teaching and examining new-found paths of her own creation.
Her art explores and describes the patterns of her life—hundreds of paintings, in her own diverse styles, which never stopped evolving…
"I really and truly want people to appreciate what's around them. What I put down, both in color and in line—no matter in what form—I want people to look at it, because it gives them some idea of what is in the world."
Her travels—to the South Seas, to Europe, to Asia—were constant themes and those experiences were usually reflected in her art, sometimes decades later…
Dorr Bothwell died in 2000 at age 98. A memorial, attended by many friends, was held on the Mendocino Headlands. As she requested, her ashes were sown into the Pacific Ocean, along the California Coast which had nurtured her for almost a century…
Dorr Bothwell was the invincible spirit of American Modernism, the epitome of artistic creativity during the 20th Century.
Dorr Bothwell: Straws in the Wind: An Artist's Life as told to Bruce Levene was first published in 2013 by Pacific Transcriptions.

Details: Dorr Bothwell: Straws in the Wind: An Artist's Life as told to Bruce Levene / paperback / 11″ x 8.5″ / 132 pages / Pacific Transcriptions, publisher (2018) / $24.95.
Straws in the Wind can be ordered online, or purchased in person from Gallery Bookshop on the corner of Main & Kasten Streets in Mendocino.
In stock at
Gallery Bookshop
PO Box 270, Mendocin0, CA 95460
707-937-2665
info@gallerybookshop.com
Open daily 9:30- 6
And 'til 9 on Friday & Saturday
LINKS
Dorr Bothwell: Chronology, Exhibits, Publications
Dorr Bothwell: Artwork
Mendocino Heritage Artists
Homepage