Archive of the Mendocino Heritage Artists
Fox & Hare: the story of a Friday evening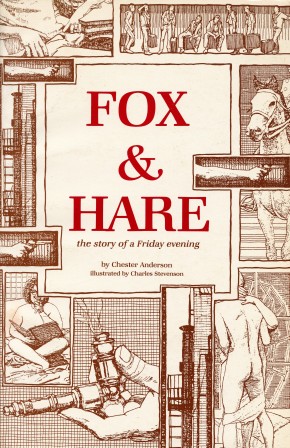 Fox & Hare: the story of a Friday evening
Author: Chester Anderson
Illustrator: Charles Stevenson; 66 pen & ink drawings, some repeated on front and back covers
Publisher: Paul Williams, Entwhistle Books, Glen Ellen, California
Trade paperback
173 pages
500 copies printed.
New, first printing
Copies range from fine to slightly humidity- wrinkled.
Fox & Hare is also available in a hardcover edition printed at the same time; cream paper boards, with title printed in red, blue cloth spine with title, author & publisher printed in gold; published without dust jacket. New, first printing, fine.
THE MAKING OF "FOX & HARE"
Excerpts from the introduction by publisher Paul Williams, Entwhistle Books, Glen Ellen, California, April 1980:
Novels don't need introductions but the story behind the pictures in this book is so unusual that we at Entwhistle have come to a corporate decision that words up front might be appropriate. Besides, we have some anachronisms to justify.
How do you illustrate a novel?
Charles Stevenson had developed a technique for doing portraits which involved shooting color slides of his subjects in a series of positions and from a variety of angles, and then using the projected slides as models…He proposed that we apply a similar method to illustrating the book: since the setting is New York City (particularly Greenwich Village in the early/mid-1960s), publisher should send author and artist to New York from California, so that author could locate individuals who looked to him like characters in his book, and artist could proceed to photograph people acting out scenes from the story on location. The photographs in turn would serve as models for the artist's drawings.
The author said forget it, he wasn't going to leave his cabin on the Russian River for such a crazy and improbable adventure. The publisher said forget it, there was no way his tiny publishing company could carry out such an ambitious and expensive undertaking. The artist just smiled, and in June of 1978 Entwhistle Books found itself shipping artist, author, and indeed publisher to New York City to carry out the artist's vision.
Charles had prepared a shooting script, with Chester's annotations. Chester and I (the publisher in question) arrived in New York a few days early and began getting in touch with everyone we knew and many we didn't in an effort to put together a full cast. Richard Miller came in from Massachusetts to be the cameraman. Miriam Knight flew from California to photograph us photographing the book.; Richard Schmeidler generously made his One Fifth Avenue apartment available to the entire crew as Operational Headquarters. We had to go down to Soho to locate OG's a 1970s restaurant with the feel of a '60s Village coffee house. Props were secured (cowboy hat, gun, hashpipe, Steve's striped shirt). And a decision was made that this would be a staging of the book in modern dress (as is sometimes done with Shakespeare). Hence the anacronisms. Any other approach would have been a logistical nightmare (where do you buy and how do you find pre-1965 shoes to fit forty people?
We began shooting on June 8, 1978, and worked almost around the clock for the next 96 hours. The cast and crew consisted entirely of volunteers, including a Wall Street attorney, a well-known science fiction writer, a Rolling Stone reporter, the editor of a magazine for gay Catholics, and even a couple of real actors. No one except the director, the author, and publisher had read the book. Chester experienced the dreamlike sensation of standing by and watching his fictional creation come to life.
When it was over, we had a small carton containing 800 color slides. Charles left for a year in Italy shortly thereafter and took the slides along; he came back with a sheaf of drawings, and completed his work in the fall of 1979.  About 2/3ds of the way through the process he found it necessary to make another visit to New York, to capture visual details – including Coney Island – that failed to make it onto film the first time around.
At any rate, here it is in words and pictures, the eternal story of Friday evening, one night's play of fox & hare. I hope you will enjoy the show.
CAST OF "FOX & HARE" IN ORDER OF APPEARANCE:
Steve Warren – Brad Balfour
David – Edward Prucha
Rexall – Lou Stathis
Matt Richmond – Norman Spinrad
Ling Morris – Mineko Muranaka
Kenji Morris – Masahiro Nomura
Bobby Two-a-Day – Ivor Dawson
Marcia Reese – Martha Wilcox
Panhandler – Bear Kamoroff
Sandy Richmond – Rosemary Edgar
Anna Reilly – Dorothy Wilson
Jerry Featherstone – John Silbersack
Hypo Herb & his party – John Swenson & friends
Harry Zucker – Richard Schmeidler
Harriet Pulaski – Miriam Knight
Chick – Daisann McClane
William H. Gohozen – Bear Kamoroff
The Kid in the Park – Richard May
Joel Kaplan – Chester Anderson
DIRECTOR & CREW
Director – Charles Stevenson
Script Consultant – Chester Anderson
Cameraman – Richard Miller
Assistant Cameraman – John Wilton
Stage Manager – Paul Williams
additional photography – Miriam Knight & Norman Spinrad
Post-production Coordinator – Tim Underwood
LINKS
Chester Anderson
Charles Marchant Stevenson: Portraits
Charles Marchant Stevenson: Artwork
Stevenson in His Own Words
About Charles Marchant Stevenson
Mendocino Heritage Artists
Welcome!