Archive of the Mendocino Heritage Artists
Chester VALENTINE JOHN Anderson (1932-1991)
Chester Anderson: Beauty of the Divine Manifestation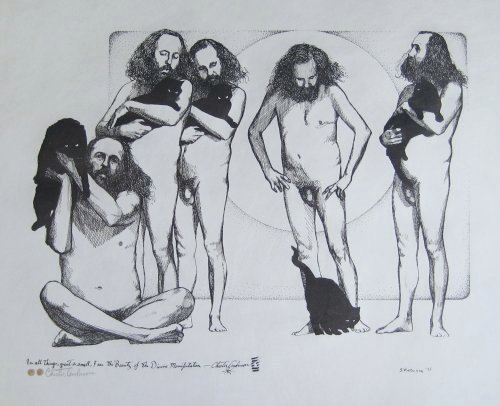 In his portrait of Chester Anderson, Charles Marchant Stevenson refers to the Renaissance allegorical convention in which Truth, having nothing to hide, is presented naked.
The inscription is in Chester Anderson's hand: In all things, great and small, I am the Beauty of the Divine Manifestation.
Stevenson is the illustrator of Chester Anderson's cinematic novel Fox and Hare: the story of a Friday evening (Entwhistle Books, 1980).
The Chester Anderson papers (c. 1963-1980) are in the collection of  the Bancroft Library, University of California at Berkeley.
LINKS
Fox & Hare
Charles Marchant Stevenson: Portraits
Charles Marchant Stevenson: Artwork
Stevenson in His Own Words
About Charles Marchant Stevenson
Mendocino Heritage Artists
Mendocino
Welcome!