Archive of the Mendocino Heritage Artists
The Legacy of William Zacha
CALIFORNIA VILLAGE: A YOUNG MAN SAVES AN OLD TOWN / LOOK Magazine – September 25, 1962 / Produced by Chandler Brossard / Photographed by Ted Streshinsky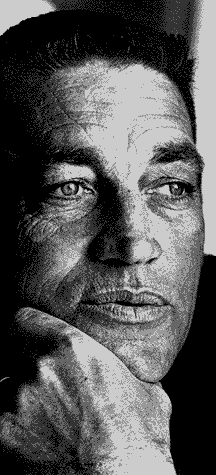 "My first problem,"says Zacha, "was getting people to believe in their town again. It was not easy."
"I'M LOOKING FOR HEAVEN ON EARTH."
"I don't know exactly why, but all my life I've wanted to do someplace some good," 42-year-old Bill Zacha said recently in his studio in Mendocino, "Everybody uses places, but few give the place back anything. Towns have souls and needs like other living things. People forget this. When I first saw Mendocino, I became excited. It had an unusual, almost unearthly quality about it – pure, quiet, unsullied – but it was dying. I knew I could help it, help it get back on its feet and make it a place where people would get a simple but profound satisfaction out of living."
One of Zacha's first moves was to buy one of the many wistful, lovely gabled houses, for $50 down. The down payment reflects the awesomely sad condition real-estate values had fallen to by 1957. The next step was to get a job – as a teacher in the high school. He brought his wife Jennie and their daughter Lucia, then two years old, up from the Bay Area where they had been living, and, thus grounded, he began his masterwork – restoring the life of the town.
In the following four years, he was a whirling dervish of activity. He opened an automatic laundry with an art gallery upstairs ("Visit us during your wash cycle"). He borrowed money to buy property on the main street, restored the buildings and made them into splendid living quarters. He got commissions to design homes – all his work is in the town's New England architectural style – for people who, because of the appealing stories coming out of Mendocino, wanted to retire there.
He talked the town elders into buying an old building to use as the nucleus of a town-owned, nonprofit art center – "A place where people could learn the creative arts and work together."
BILL ZACHA has an unusual set of values for a Californian today. He doesn't want anything to do with progress. "Neon signs, motels, express highways bringing death or disorder or smog – no, sir, you can have them," he says. "And modern-type buildings without any feeling of life in them – you can have all that junk too. I like a town that has peace and dignity and beauty, where you can walk down the street and breathe deep and shout, 'Man! Am I glad I live here!'"
Mendocino, Calif., has become such a town, not only for Zacha, but for scores of newcomers as well. When Zacha, a painter-designer, first saw Mendocino, a coastal town about 160 miles north of San Francisco, in 1957, however, it was virtually a ghost town. Its population, completely dependent on a dying lumber industry, was dwindling. The town had lost interest in itself; there was absolutely nothing doing. How Bill Zacha revived it is indeed a miracle.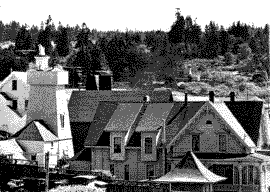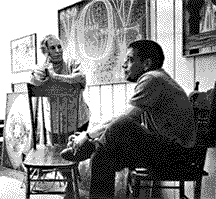 One of Mendocino's most famous new residents is painter Dorr Bothwell. She says she's, "here for life."
Mendocino is now the most talked-about art center in northern California. Tourists and potential residents pour in daily. The population, around 500 in 1958, is now 1,165. Admittedly, this rise was inevitable in view of California's population boom, but it is to Bill Zacha's credit that the town's character has been maintained in spite of this sudden growth. "But the important thing for Mendocino," he says, "is that the townspeople have regained their spirit and pride in living here."
LOOK Magazine – September 25, 1962
Divine Inspiration, Creative Genius. A Whim.
William Zacha: A Life Well Lived
Mendocino Art Center
Zacha's Bay Window Gallery
Mendocino Heritage Artists
Return to William Zacha
Homepage