Archive of the Mendocino Heritage Artists
Zacha's Bay Window Gallery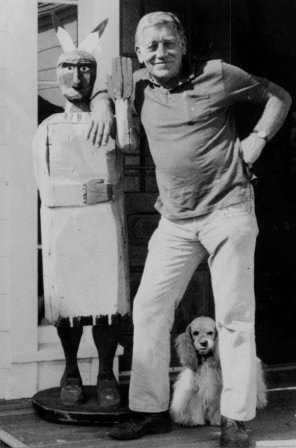 Zacha's Bay Window Gallery began as a showcase for Bill Zacha's own work and for the work of the Mendocino Art Center instructors. As Mendocino became a magnet for artists, the Bay Window Gallery represented the most accomplished of the new artists too.
For decades, anyone looking for the best art in Mendocino went to Zacha's Bay Window Gallery first. One reason was the quality of the art, but another reason was Bill Zacha, because, before art can be appreciated, it has to be seen.
In the early 1970s, except for Dick's Place (a local bar), and the as-yet-unrenovated fleabag Mendocino Hotel, Mendocino's Main Street went dark after 5:00 pm. When weekend visitors drove up from the Bay Area on a Friday evening, the lights of Zacha's Bay Window Gallery promised welcome.
There was Bill Zacha, offering weary travelers an espresso or a glass of wine, asking them about themselves, telling them about the town, and sharing his inimitable stories. Bill wasn't pushing art; he was making friends.
Often Friday night visitors would return before leaving town. Sometimes they would buy a work of art. They always told their friends about Bill Zacha, and next time they were in Mendocino, they always stopped in to see Bill, and the art at Zacha's Bay Window Gallery.
But Zacha's Bay Window was not Bill's first Mendocino art gallery.
In 1958 Bill Zacha purchased a property bordered by Main Street on the south, Kasten Street on the west, and Albion Street on the north. The property had several buildings of which the largest, then known as the Elliott Building, still stands at the corner of Main Street and Kasten, and houses Gallery Bookshop.
It was upstairs in the Elliott building that Bill first opened a gallery, selling art and used books (because Bill was a reader, and Mendocino had no bookshop).
Next, Bill moved his gallery to the Albion Street end of the property, to the small building that now houses The Compass Rose leather shop.
The third incarnation of Bill Zacha's art gallery was in the east half of the current Gallery Bookshop, where it remained for nearly nine years, before moving again.
In 1970, Bill moved his gallery to the now legendary building at 560 Main Street (currently numbered 45110 Main Street), and named it Zacha's Bay Window Gallery.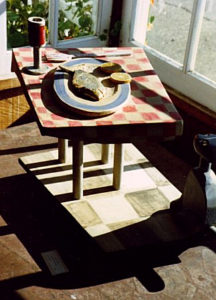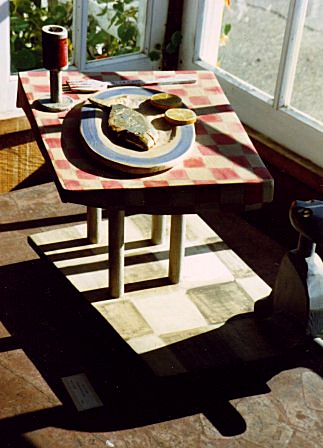 Note on the new street numbers: Because the village of Mendocino is unincorporated, it is under the jurisdiction of Mendocino County government, which renumbered all the street addresses in the village, to allow for an unlikely explosion in development. California Coastal Commission regulations, and the Mendocino Historical Review Board place strong checks on growth. Also, the village is located on a tiny peninsula bounded on three sides by Mendocino Headlands State Park. Limited water is a more intransigent barrier to growth. The Mendocino Coast suffers regular droughts, and Mendocino is dependent on well water, limited even in the wettest years. With no change in building location, 560 Main Street became 45110 Main Street, the current street address of the Zacha's Bay Window Gallery building.
Lucia Zacha remembers, "The property there was gradually developed, adding more rooms to the downstairs exhibit space. The back apartment and studio were custom built for Dorr Bothwell in 1973. She lived there several years, before her move to Arizona [winter 1994-1995]."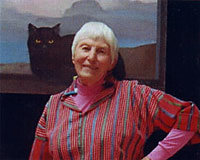 "Hilda Pertha moved into the upstairs apartment later, living there 37 years, until her death [in 2011]."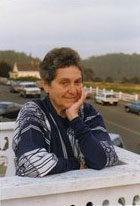 When Zacha's Bay Window Gallery finally closed in 2014, Bill Zacha's Mendocino galleries had represented the very best of Mendocino art for over fifty years. The Bay Window Gallery name continues here on Bill Zacha's website.
Carol Goodwin Blick (2017)
LINKS
Bill's Roses: a remembrance by Hilda Pertha
Red Roses for Bill: Bev Kjeldsen talks to Bill Zacha
Bill Zacha: A Life Well Lived
The Mendocino Heritage Artists
Welcome!