Archive of the Mendocino Heritage Artists
Tōshi Yoshida (1911-1995)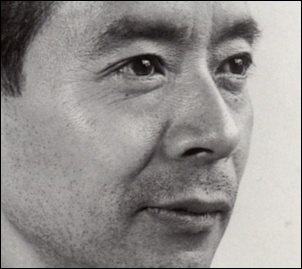 Born in Tokyo, the eldest son of renowned painter and woodblock print artist Hiroshi Yoshida (1876-1950) and gifted and popular painter Fujio Yoshida (1887-1987), Tōshi Yoshida was raised immersed in art.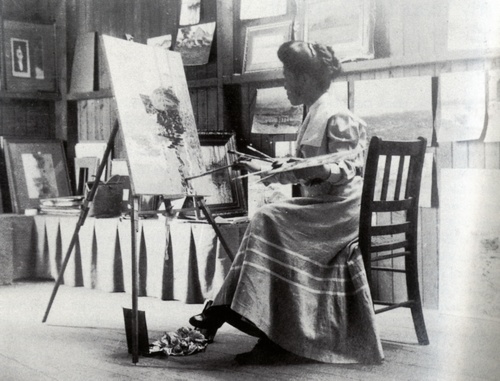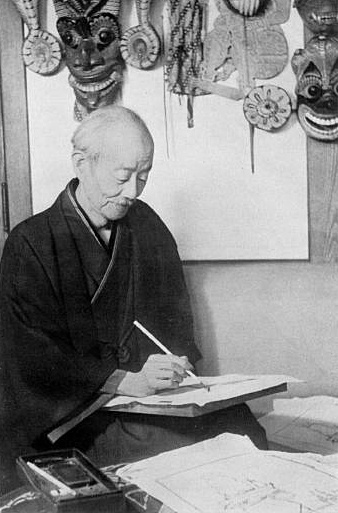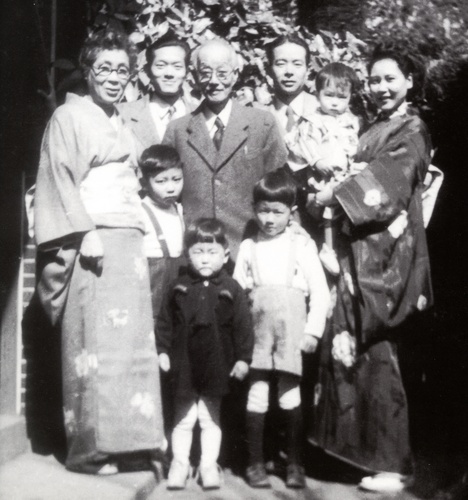 With such parents, it is no surprise that by the age of three Tōshi was showing a precocious talent for drawing or that, even then, he intended his drawings to be  designs for wood block prints.
When he was young, one of his legs was paralyzed so he studied at home rather than going to primary school. His formal training began when he was 14, under his father.
"Yoshida's artistic career was a long struggle between fidelity to his father's legacy and freedom from it. Hiroshi Yoshida, a shin-hanga landscape artist, dictated Tōshi's early artistic development. In 1926, Tōshi chose animals as his primary subjects to distinguish himself from his father, who was a landscape printmaker. However, in the 1930s, Tōshi started making landscape paintings and prints similar to his father's works. Father and son traveled together and even painted side by side. From 1930 to 1931, Hiroshi and Tōshi traveled to India, Shanghai, Hong Kong, Malaysia, Singapore, Calcutta, and Burma.
"Tōshi Yoshida's adult career began under adverse circumstances. Yoshida was an apprentice in the Yoshida family system, with little, if any, artistic autonomy from his father. 1936 was the beginning of military dictatorship, under which art was under censorship.
"In 1940 he married artist Kiso Yoshida (née Katsura) and they soon had five sons.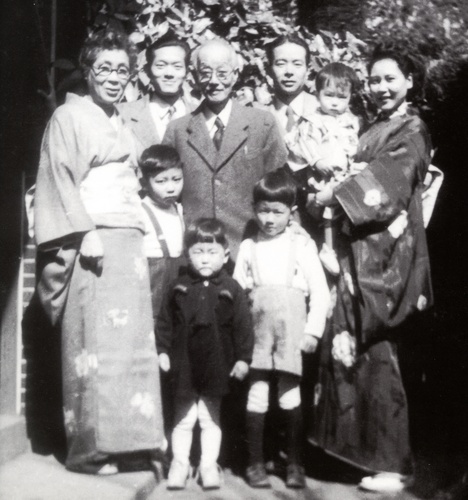 "In 1943, Yoshida produced oil paintings of factory workers and civilians engaging in war production. In 1951, because of economic hardship, Yoshida published seventeen traditional landscape works for American personnel and their wives.
"The death of his father in 1950 marked Tōshi's total break from his past and from naturalism. In 1952, Yoshida began a series of abstract woodcuts, influenced by his brother, Hodaka Yoshida. In 1953, Tōshi traveled to the United States, Mexico, London, and the Near East. He made presentations in thirty museums and galleries in eighteen states. From 1954 to 1973, Yoshida made three hundred nonobjective prints.
After attending the School of the Pacific Arts Association, seeking new subject matter, Toshi Yoshida resumed travels which took him to the Americas, Europe, Asia, Africa and Antarctica.
"In 1971, Yoshida returned to his innate affinity for animals and focused on birds and animals again. His Humming Bird and Fuchsia in 1971 was a prelude to the African works that he began the following year. From 1971 to 1994, until the last years of his life, Tōshi worked almost exclusively on animal prints. Tōshi was also a children's book illustrator. He wrote his own short stories and made illustrations in the Animal Picture Book series." From Tōshi Yoshida, Wikipedia
Tōshi Yoshida's woodblock prints have an international reputation for excellenceand are represented in the permanent collections of some of the world's leading museums.
Throughout his travels he held woodblock print exhibitions and found himself in demand as a speaker. Tōshi and his wife Kiso Yoshida (1919-2005) welcomed young artists from around the world to their studio in Japan.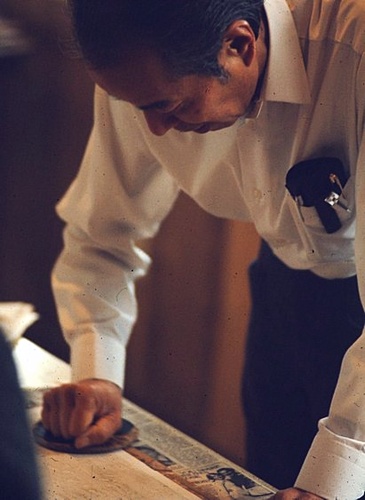 Inspired by his friendship with Bill Zacha, and by  his time living and working at the Mendocino Art Center, Tōshi Yoshida founded the Miasa Bunka Center International Hanga Academy in Miasa, Nagano-ken on Japan's main island, Honshu.
In addition to shin hanga ("new prints"), which draw inspiration from the ukiyo-e woodblock prints, the new prints of the 18th and 19th centuries C.E., and employ the same traditional production methods, Tōshi Yoshida distinguished himself as a modern sosaku hanga ("creative prints") artist.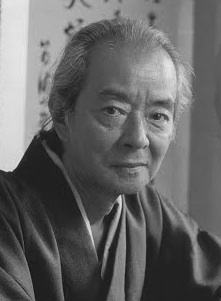 After Hiroshi and Tōshi Yoshida were gone, and the original wood blocks for their prints had became too worn for acceptable  posthumous prints, the Yoshida  Studio in Tokyo (founded 1925) finally closed. Today the Yoshida family licences the wood block images for commercial print reproduction.  The Wikipedia article "Yoshida family artists" provides several generations of Yoshida history, and more recent information about the members of this unique family.
THE MIASA BUNKA CENTER AND THE SISTER CITIES
Inspired by the Mendocino Art Center where he lived and taught in 1971, Tōshi Yoshida, and his wife, artist Kiso Yoshida (1919-2005), founded the Miasa Bunka Center International Hanga Academy in Miasa, Nagano-ken on Japan's main island, Honshu.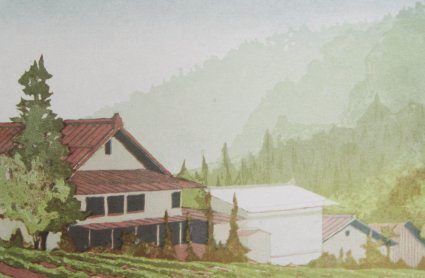 Since the Bunka Center's founding in 1980, Miasa (now Miasa-Omachi) and Mendocino have been sister cities.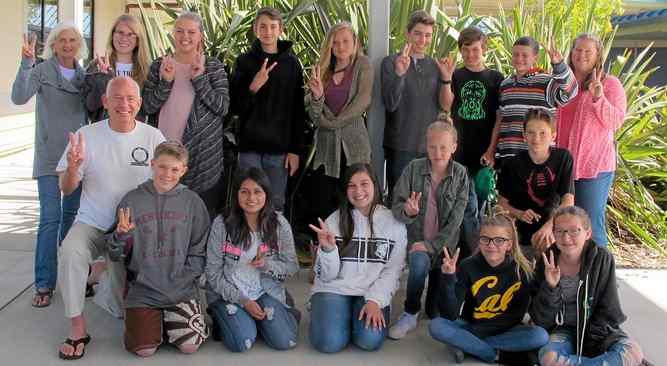 The Miasa-Mendocino Peace Plaques bear witness to their enduring friendship, and to the two communities' committment to peace.
Miasa Peace Plaque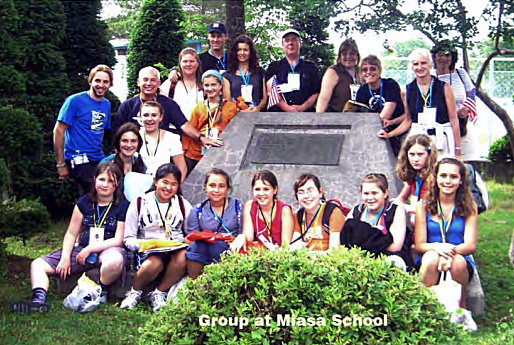 Mendocino Peace Plaque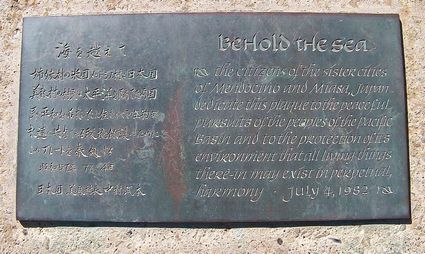 Carol Goodwin Blick, Archivist
The Mendocino Heritage Artists
LINKS
Tōshi: traditional woodblock prints
Tōshi Yoshida: self-carved woodblock prints
Tōshi Yoshida: paintings
Sister Cities & the Peace Plaques
Mendocino Heritage Artists
Welcome!