Dorr Bothwell: Acrylic Transfer & Laserprint
Acrylic transfer
Acrylic transfer is a process Dorr Bothwell used in the 1980s, to create durable elements for her collages, and mixed media paintings, like the  Southwest Portal series.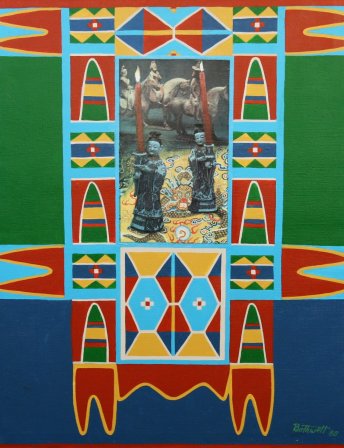 Clear acrylic medium is applied over a collage element, an image printed on paper (from a magazine, for example). When dry, the flexible acrylic is separated from the paper, lifting the image, which is then pasted into the composition, again using clear acrylic medium.
Acrylic transfer offered the flexibility of found-image paper collage with the archival durability of acrylic.
Laserprints
Circa 1990 Bothwell moved from acrylic transfer to acrylic ink laserprints of collage elements.
Laserprints, which provide even more vivid images than acrylic transfer, are more UV light resistant than watercolors or ink jet prints which include giclées. On acid free paper, laser prints are superior to giclées in durability.
Bothwell, who pioneered serigraphy as fine art , considered laserprinting the next reproduction process to bring into the mainstream as a fine art medium. The mixed media pieces in Bothwell's 1994 Tau/Tao show at Gallery Mendocino are, almost all, largely collaged laserprint images.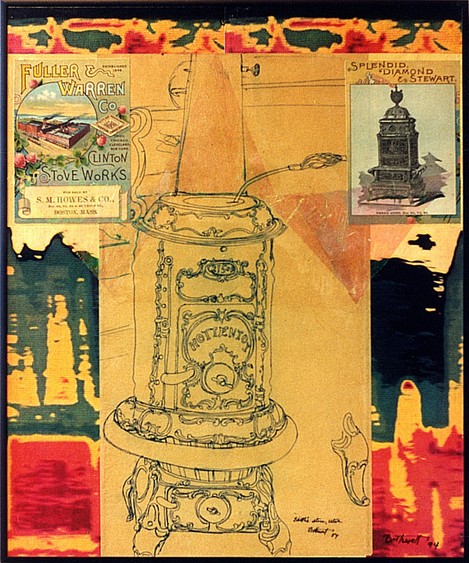 Unfortunately Bothwell was in her 90s, and losing her sight, so her laserprint experiments were cut short. Tau/Tao was Dorr Bothwell's last exhibit of new work.
Dorr Bothwell & Howard Clark
Here Bothwell consults about laserprints with Copy Quick owner Howard Clark who, she said, was the most skilled printing collaborator she had worked with.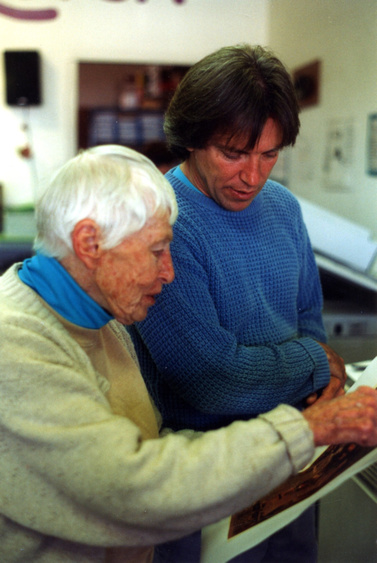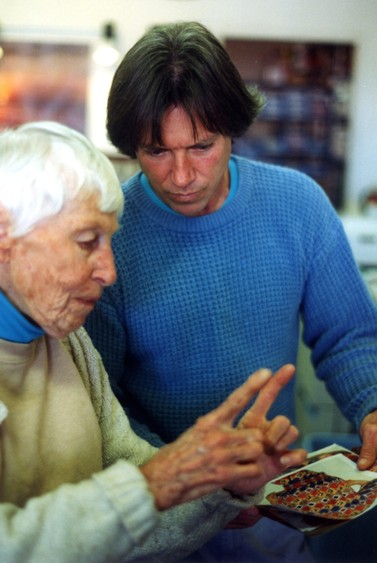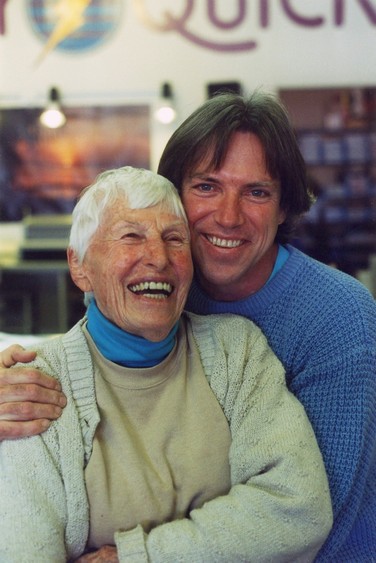 LINKS
Dorr Bothwell: Artwork
Dorr Bothwell in Her Own Words
Barebones Bothwell
Mendocino Heritage Artists
Welcome!