Charles Marchant STEVENSON: Portraits Outside Mendocino
Bata Bheag: Portrait of Irving S. Shapiro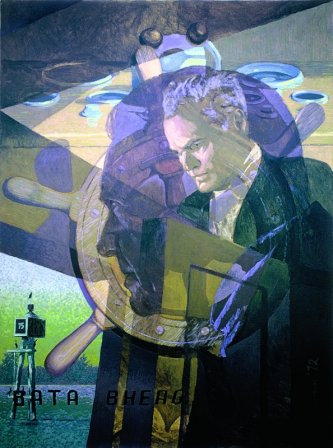 Bata Bheag (little boat in Gaelic),evokes Irving S. Shapiro's nautical interests, and comments on Shapiro as a rising captain of industry. Five years after sitting for the Stevenson portrait, Irving S. Shapiro became chairman and chief executive officer of Dupont (E. I. du Pont de Nemours and Company), the first person outside the Dupont family to hold the top position, which he held from 1973 until his retirement in 1981.
Portrait of Bayard Sharp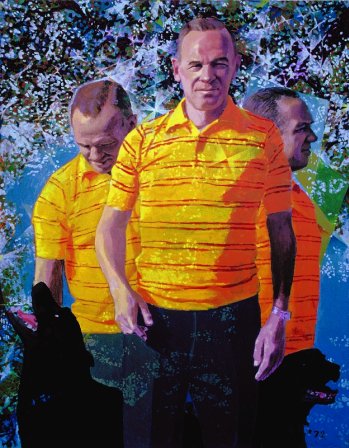 Charles Marchant Stevenson's Portrait of Bayard Sharp (1913-2002), shows the private man in a quiet moment with his dog. Former President George Bush said of Sharp (Dupont heir, WWII Navy veteran, horseman, and Republican powerbroker), He was one of the most decent, fine men I have ever known. He was a very close friend that I will always be grateful to for his strong political support. I can't think of a finer gentleman, and he will be sorely missed, by the entire Bush family. Former Delaware congressman Hal Haskell, a lifelong friend of Sharp, said, If it wasn't for Bayard and [son-in-law] Will Farish, I doubt seriously if you would have had either Bush as president. – Source:  Bayard Sharp, DuPont Heir (obituary).
The painting of Bayard Sharp appears to mark the very end of Charles Marchant Stevenson's career as a society portraitist. Although the demand for his talents followed Stevenson, it was to leave that career behind that Stevenson moved first to San Francisco, then to Mendocino, rejecting his popularity and financial success as a courtier, in order to fulfill his personal vision of art.
Mustapha at the Temple of Kom Ombo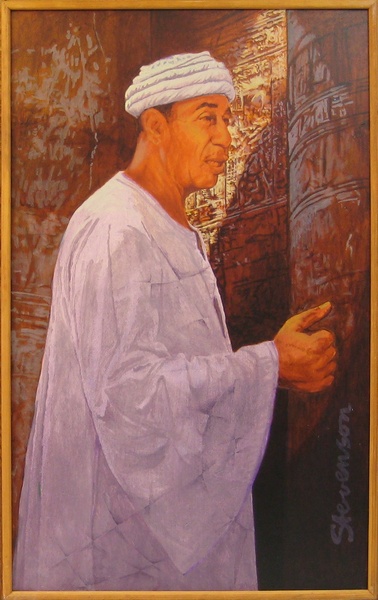 Mustapha at the Temple of Kom Ombo (1996), is a portrait of the extraordinary Egyptologist who was Charles Marchant Stevenson's guide in Egypt, and who became his friend, later coming to visit Stevenson in Mendocino. Here Mustafa explains the history of the double temple of Kom Ombo, built on the Nile by the Ptolemies in the Second Century C.E.
Student Sailors, Royal Danish Navy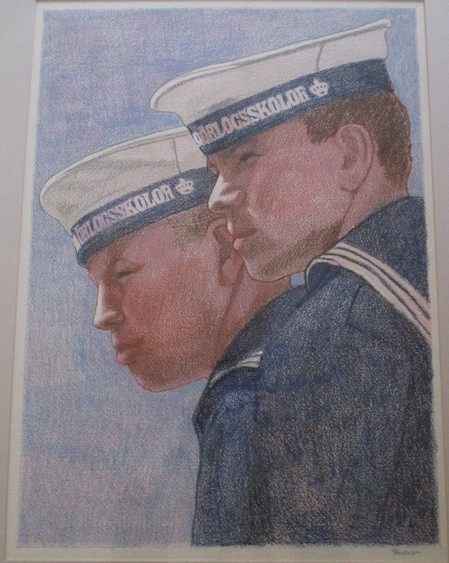 LINKS
Charles Marchant Stevenson: Portraits
Charles Marchant Stevenson: Artwork
Stevenson in His Own Words
About Charles Marchant Stevenson
Mendocino Heritage Artists
Welcome!