Toshi Yoshida (1911-1995)
Toshi Yoshida's woodblock prints, ranging from traditional Japanese cultural subjects to evocative abstract images and powerful depictions of animals in their natural habitats, have given the artist an international reputation for excellence.
Born in Tokyo, the eldest son of renowned painter and woodblock print artist Hiroshi Yoshida(1876-1950) and artist Fujio Yoshida (1887-1987), Toshi Yoshida was raised immersed in art. Branching into other media, later generations of Yoshida artists have continued to burnish the Yoshida name.
From as early as the age of three, Toshi Yoshida showed exceptional talent in woodblock print design, amazing and delighting his father. Together father and son traveled widely in East Asia, completing sketching tours of India, Burma, and Ceylon by the time the younger Yoshida was twenty.
After attending the School of the Pacific Arts Association, seeking new subject matter, Toshi Yoshida resumed travels which took him to the Americas, Europe, Asia, Africa and Antarctica.
Throughout Master Yoshida's world-wide travels he held woodblock print exhibitions and found himself in demand as a speaker. Toshi Yoshida and his wife artist Kiso Yoshida (1919-2005) welcomed young artists from around the world to their studio in Japan.
Inspired by the Mendocino Art Center where he lived and taught in 1971, Master Yoshida founded the Miasa Bunka Center International Hanga Academy in Miasa, Nagano-ken on Japan's main island, Honshu. Since the Bunka Center's founding in 1980, Miasa (now Miasa-Omachi) and Mendocino have been sister cities.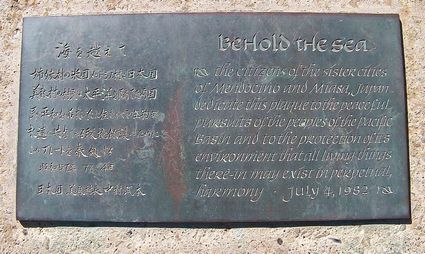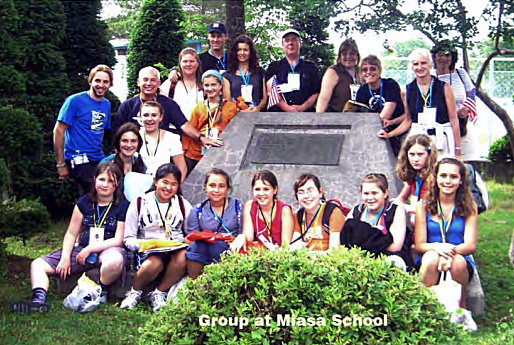 In addition to shin hanga ("new prints"), which draw inspiration from the ukiyo-e woodblock prints of the 18th and 19th centuries C.E., and employ the same traditional production methods, Master Yoshida distinguished himself as a modern sosaku hanga ("creative prints") artist. His images span traditional Japanese cultural subjects, evocative abstract work and powerful depictions of animals in their natural habitats.
As with the work of his father Hiroshi Yoshida, Toshi Yoshida's woodblock prints are not only treasured in Japan, but have an international reputation for excellence, hanging in the permanent collections of the world's leading museums including, among others, the Fine Arts Museums of San Francisco, the New York Museum of Modern Art and the Boston Museum of Fine Arts.
– Carol Goodwin Blick (2008)
Toshi Yoshida's precocious skill as a printmaker was recognized early by his parents, Yoshida Hiroshi and Yoshida Fujio, themselves printmakers. Yoshida Hiroshi, a pioneer of the shin hanga movement, ran a workshop for block printing that Toshi (the eldest son) eventually took over in 1950. Up to that time, he adhered to his father's representational aesthetic, but soon began to design and print abstract images in the sosaki hanga vein. Yoshida Toshi went on to write (with Yuki Rei) the influential text Japanese Printmaking: A Handbook of Traditional and Modern Techniques (1964). Volk, Alicia. MADE IN JAPAN The Postwar Creative Print Movement. Milwaukee, Wisconsin: Milwaukee Art Museum in association with University of Washington Press, 2005, page 115. (hgs 5/11/09) https://art.famsf.org/toshi-yoshida
MORE ABOUT JAPANESE WOODBLOCK PRINTS
Woodblock Print Terms by J. Noel Chiappa
http://mercury.lcs.mit.edu/~jnc/prints/glossary.html
Shin Hanga & Sosaku Hanga
The shin hanga (literally "new prints") art movement of the early 20th century C.E. in Japan, revitalized traditional ukiyo-e art which had its roots in the 17th through early 19th centuries C.E., maintaining the traditional ukiyo-e collaborative system (hanmoto system) in which the artist, carver, printer and publisher engaged in a division of labor, as opposed to the sōsaku hanga ("creative prints") movement which advocated the principles of jiga ("self-drawn"), jijoku ("self-carved") and jizuri ("self-printed"), in which the artist, with the desire of expressing the self, is the sole creator of art.
– from Wikipedia, the free encyclopedia
About shin hanga:
http://en.wikipedia.org/wiki/Shin_hanga
About sosaku hanga:
http://en.wikipedia.org/wiki/Sosaku_hanga
VIEW THE WOODBLOCK PRINTS OF TOSHI YOSHIDA