Archive of the Mendocino Heritage Artists
Hilda Pertha: Artist's Statement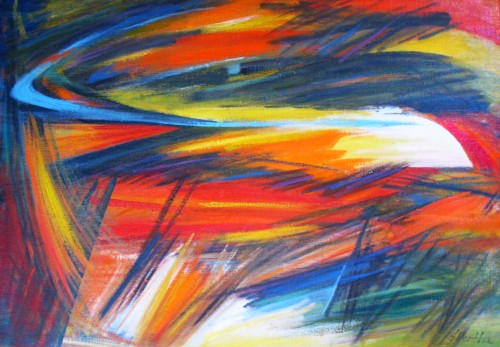 The following is Hilda Pertha's introduction to herself and her artwork, written for the Zacha's Bay Window Gallery website in 2008.
Born in 1911, in New Jersey, I have devoted a lifetime to art. My primary medium is oil, with periods of exploration into sculpture, prints, water media, collage and industrial design.
Dividing my time between city and country living, I spent the early years in the Philadelphia area.  I moved to New York City in 1946, left for Europe in 1954, then returned to the USA and San Francisco in 1959.
Dorr Bothwell persuaded me to come back to the United States. She wanted to take a sabbatical and asked me to take over her classes. Dorr Bothwell is also the reason I came to Mendocino in 1960, as the first painting teacher at the new Mendocino Art Center. A mutual acquaintance had recommended her to Bill Zacha; she asked me to come hold the job for her.
I never intended to stay in Mendocino; I kept leaving, but something always pulled me back. Over time I have returned to Europe for sojourns in Paris and Norway, but I have lived in Mendocino since 1979, painting, exhibiting, writing and giving occasional seminars and lectures.
At present, I am working on a number of canvasses, most with garden themes.
Hilda Pertha, Mendocino (2008)
Connie Korbel-Mickey provides many more of Hilda Pertha's own words in her unique online exploration of Hilda Pertha, her art and her writing.
LINKS
Hilda Pertha
Hilda Pertha: Artwork
Hilda Pertha and Connie Korbel-Mickey
The Mendocino Heritage Artists
Welcome!